Saturday, August 25, 2018
Click HERE for Friday Night TGIF information
Note: This schedule is subject to change as needed. Please look for updates on Facebook the day of Boomtown.
10am-4pm: Boom-fest in downtown Vinton. More information at: www.vinton.info.
4pm: Gates open at the fairgrounds. Parking at the fairgrounds is $10 per vehicle. Grandstand admission is $10 per person, all ages.
6pm – 7:30pm: Live performance by Slap 'N Tickle
7:30 (approx): Opening ceremonies with presentation of colors and National Anthem.
Following the opening ceremonies:
Member Showcase: Hand-built shells by IPA members. Listen for announcements about the type of shell being fired and who created it.
Junior pyro show: Choreographed and lit by youth 18 and under as they learn the safety precautions and skills to master the art of pyrotechnics.
Intermission (approximately 15-30 minutes): Safety is number one. Please be patient while the final safety and security checks are completed.
Approx. 9:30pm: Grand Public Display. What we've all been waiting for!
After the Show: Party on with a Slap 'N Tickle Encore
2018 Live Entertainment by: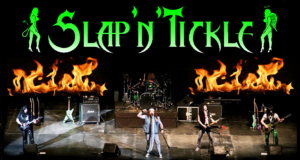 Check out the Slap 'N Tickle Facebook page HERE!