Click on a subject…
When should I arrive?  |  Where can I stay?  |  How do I get there?
Where should I sit? | How do I find my way around the fairgrounds?
Can I buy tickets in advance?
Join us Friday night for the TGIF (Thank God Its Fireworks!) Party at the fairgrounds. Enjoy some tunes at the beer tent and grab some grub from the on-site food vendors. If we're lucky, we'll get to see a few firework demonstrations as the IPA gets ready for the big show on Saturday. The party starts at 6pm with free parking and admission.
Saturday is a full day of activity. Start in downtown Vinton with Boom-fest during the day (more information is available HERE). Then, head over to the fairgrounds and save your seat for the grand public display. Gates open at 3pm, and we recommend you arrive early – parking and seating will fill up quickly. Click HERE for the complete schedule of events.
Camping: Public camping spots at the Benton County Fairgrounds are full. ***IPA members: You need to reserve your spot through the IPA. Click HERE for more information.
Boomtown will take place rain or shine. NO REFUNDS. NO EXCEPTIONS.
Camping is also available at local county parks. Click HERE for more information about local campgrounds.
Hotels:
The Modern Motel: 302 North K Ave, Vinton, 319-472-2391
The Cobblestone Inn: 1202 West 11th Street, Vinton, 319-472-2220
Urbana Inn & Suites: 5369 Hutton Drive, Urbana, 319-443-8888
Boomtown takes place at the Benton County Fairgrounds (1700 2nd Ave) in Vinton, Iowa 52349.
For those with GPS, the latitude and longitude are 42º 9'14.16″ N 92º 1'9.90″ W
Where should I watch the show from?
The best seats are in the grandstands at the fairgrounds. It has been said that if you're not at the fairgrounds you're missing half the show!
For those not at the fairgrounds, 13th Street offers viewing opportunities, along with nearby parks and parking lots. Please show respect by picking up after yourself and staying off of private property.
A general map of the fairgrounds is below.
Click on the map for a larger view.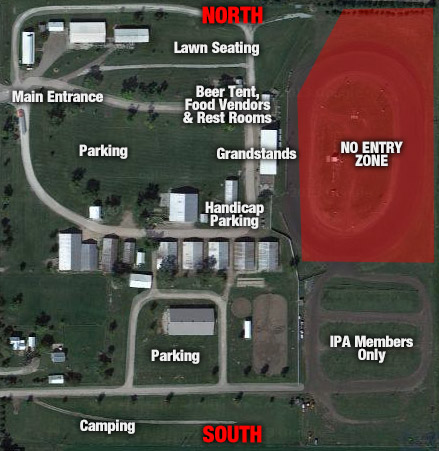 Where can I buy tickets?
Tickets are available at the grandstands starting at 4pm on Saturday. There are no early or reserved individual ticket sales. Planning a party? Reserved seats are available, but don't wait, email for availability and pricing of reserved seating. (take me to the top)